How to Change a Flat Tire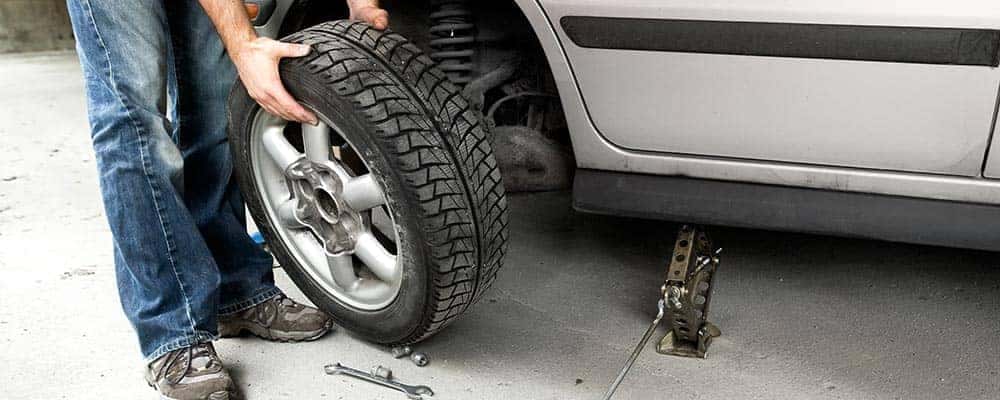 Having your busy day interrupted by a flat tire is frustrating. Yet, with a little know-how, you can avoid being stuck on the side of the Mississauga roads for long. If you don't know how to switch a tire, this guide from Mercedes-Benz Burlington provides easy instructions on this valuable life skill. Below we'll cover:
Making sure you have the correct tools
Finding a safe spot to administer the tire change
Following the appropriate steps to install the spare
Knowing when it's necessary to call for assistance
How to Switch a Tire in 5 Steps
When it comes time for a Mercedes-Benz tire change, you first need to make sure you have the right equipment. Once you ensure you have the proper tools, including a spare tire, a jack, wheel wedges, and a lug wrench, you're ready to go! Make sure you've relocated to a safe place like a quiet side street or a parking lot, and then follow these steps to change a flat tire:
Secure the wheel wedges against the tires on the opposite side of the flat tire.
Remove the hubcap or wheel cover and loosen the lug nuts.
Place the jack under your car and expand it until your flat tire is about 15 centimetres off the ground. At this point, you can unscrew and remove the lug nuts.
Remove the flat tire, align the spare, and replace the lug nuts, tightening by hand.
Lower the jack, tighten the lug nuts with the wrench, replace the hubcap, and check the spare tire pressure.
Now that you've completed your Mercedes-Benz tire replacement, you're ready to roll! If you're riding on a doughnut tire, rather than a full spare, be sure to take easy roads and make sure to schedule service right away. And remember in the event of a breakdown, you can also contact Mercedes-Benz Roadside Assistance.
Schedule Your Mercedes-Benz Tire Change at Mercedes-Benz Burlington!
Now that you know how to switch a tire, you may also need a full-size Mercedes-Benz tire replacement. Make your way over from Hamilton today to get assistance with selecting and replacing your tires, checking their tread depth, or for guidance with changing your key battery. And, while you're here, discover how you may be covered by Mercedes-Benz Roadside Assistance for extra help in the event a problem arises while navigating Brampton. Also, take a moment to explore the differences between a hand car wash and touchless car wash!