How to Remove Smoke Smell From a Car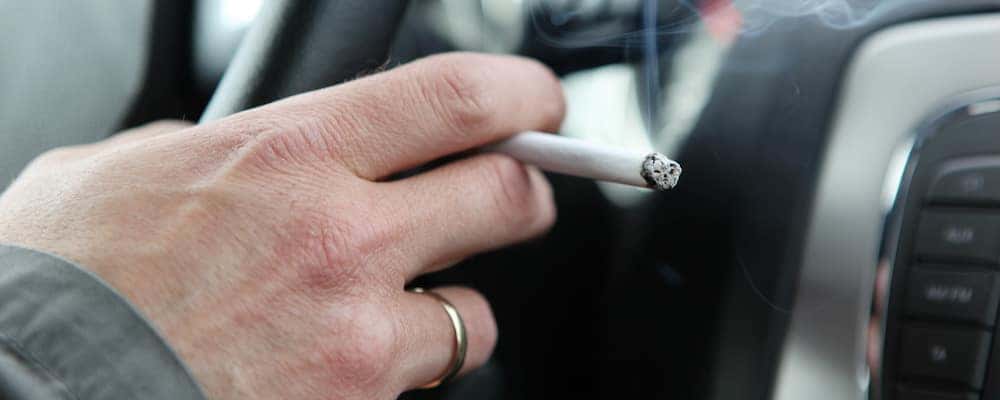 Whether you just purchased a used car with a heavy smoke smell in Milton or you yourself smoke in Oakville and want to know how to get cigarette smell out of a car, Mercedes-Benz Burlington has some simple solutions. Check out our guide to eliminating tobacco odours from your vehicle, and contact us if you have any questions!
How To Get Smoke Smell Out of a Car: Quick Solutions
These solutions on how to get cigarette smell out of a car are great for people who smoke regularly in their vehicle and want to temporarily reduce the smoke smell or mitigate the increasing odour over time.
Air Freshener. While the classic pine-tree car freshener is an obvious choice, many air fresheners simply mask the smell, so if you can, buy one that says "odour eliminator" on the label.
White Vinegar. Pour some white vinegar into an open cup and place it overnight in your car (to avoid spilling while driving). This may help reduce the smell of smoke.
Coffee Grounds. Place unused coffee grounds in an open cup and leave it overnight. The strong coffee scent will tend to mask smoke odours and maybe even make your morning commute a little pleasanter.
Citrus Fruits. Save the peels from any citrus fruit that you consume and place them in an open cup to leave in your car. The peels can both absorb odour and leave a nice smell, but be sure to replace them regularly so they don't rot and create a worse smell.
Charcoal. If you place an entire bag of charcoal in your backseat for a day or two it can help absorb vehicle odours, and you will still be able to use it for grilling afterwards.
Dryer Sheets. If you want to reduce the likelihood of smoke smell seeping into the upholstery long-term, keep a box of dryer sheets in your car. When you or your passenger gets out of the car after smoking, you can give the seat a quick wipe down with a dryer sheet for a fresher-smelling cabin.
Newspapers. If you have access to newspapers, leaving them in your car overnight can absorb some of the smell from a recent smoking session but may not be as helpful with odour that has permeated into the seats.
Baking Soda. You can either leave an open box of baking soda in the door pocket of your car for a little less mess, or sprinkle a little on the DRY upholstery and carpet at the end of the day and vacuum it up in the morning before driving anywhere.
How to Get Smoke Smell Out of a Car: Long-Term Solutions
These solutions are great if you don't plan on having anyone smoke in your vehicle in future. They will take a bit of effort for more permanent odour removal.
Deep Clean. In a ventilated area with the car windows down, remove all floor mats and linings and air them outside, or throw them in the wash if possible. Thoroughly vacuum the interior, getting every crevice and surface. Use a cleaner that is safe for your cloth or leather upholstery and thoroughly clean every surface. Let all surfaces dry before driving.
Address the Ventilation. With all windows down, turn the engine on, put the fan at full blast and AC its coldest, and make sure the recirculation setting is off. As that is running spray a neutralizer into the air intake. Then, turn the heat up to the highest temperature and spray the neutralizer into the air intake a second time. Let it run for another minute or so to get it through all the ducts.
Professional Detail. If you don't have the time or energy to put in the elbow grease, outsource your cleaning task to the professionals for a really thorough job.
Replace Parts. If the smoke smell still lingers, you may need to replace your air filtration system, carpets, and mats.
Rely on Mercedes-Benz Burlington for Your Automotive Needs
If you need to replace any smoky parts in your vehicle in Mississauga contact our parts department and we'll see what we can do! If you need help choosing a quality used vehicle with no smoky smell, discover how to clean your leather seats, or learn about our certified pre-owned vehicles that must pass a 150-point inspection before being sold at Mercedes-Benz Burlington
Learn More at Mercedes-Benz Burlington
Service CentreContact Us Even with luxury vehicles, things can happen. Instead of finding yourself stranded and frustrated in Oakville, make sure to take advantage of the Mercedes-Benz Canada Roadside Assistance Program. The Mercedes-Benz Roadside Assistance Canada Program is part of our commitment to you, as well as to the quality of our vehicles. Learn more…

What does the check engine symbol look like and what does it mean? The symbol can be found on the dashboard of your vehicle. Some vehicles will have the symbol of an engine, while others will have "check engine" spelled out. Either way, it means that there's an issue with your vehicle that needs to…

Need a quick lesson on how to jump start a car? In this step-by-step guide from Mercedes-Benz Burlington you'll learn how to connect jumper cables and how to boost a car battery so you can get safely back on Oakville-area roads. Schedule Service What's Service A? Steps to Jump Start Your Car These steps will describe how…